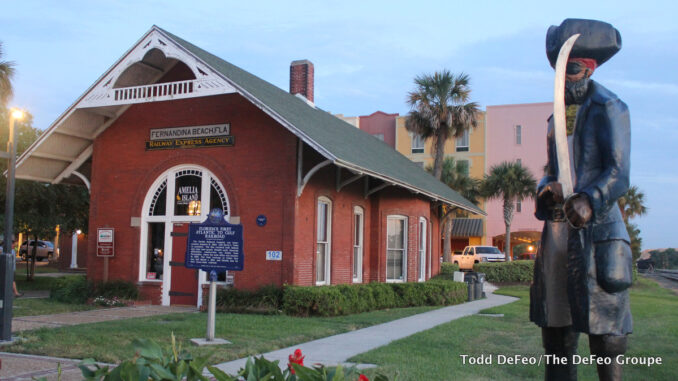 FERNANDINA BEACH, Fla. — On first glance, it might seem possible to dismiss Amelia Island as another beachfront town. But dig a little deeper and you'll find plenty of history and culture.
Though it's surrounded by the Atlantic Ocean, the Intra-coastal waterway, Nassau Sound and the Cumberland Sound, one of the East'svdeepest inlets, Amelia Island hardly seems like an island.
Credited as the "Birthplace of the Modern Shrimping Industry," the island is 13 miles long and two miles wide. About 10 percent of the island is set aside as park preserves. Fernandina Beach is the only city in the United States that has been under eight different national flags since 1562, making it known as the "Isle of Eight Flags."
First-time visitors to the island will want to spend some time in historic downtown Fernandina Beach. A stroll down picturesque Centre Street provides numerous choices for shopping and dining, not to mention photo opportunities.
The area that is today considered downtown Fernandina Beach dates to the mid-19th century. Interestingly, the city actually moved from its original location, known as Old Town, to the present site because that's where Florida's first cross-state railroad would terminate.
The city boasts many historic buildings, houses and churches, all located within walking distance of downtown Fernandina Beach, making the town an incredibly picturesque destination. The Palace Saloon, located at the corner of Centre and Second streets, is Florida's oldest saloon, having operated since 1903.
Next, visitors should take in Fort Clinch, a remarkably well-preserved 19th century fort. Named after Gen. Duncan Lamont Clinch, a commander during the First and Second Seminole wars, the structure dates to 1847, following the end of the Second Seminole War, though the area where the fort stands has been a military site since 1736.
During the Civil War, Confederate troops took control of Fort Clinch in early 1861; Union troops seized it about a year later and used Fort Clinch throughout the rest of the war. The fort was again used during the Spanish-American War. It has retired from active status since and was added to the National Register of Historic Places in 1972.
One last site, the Amelia Island Museum of History, provides visitors with an overview of the island's history, starting with its Native American occupants and continuing through modern times. The museum is located in the former Nassau County Jail.