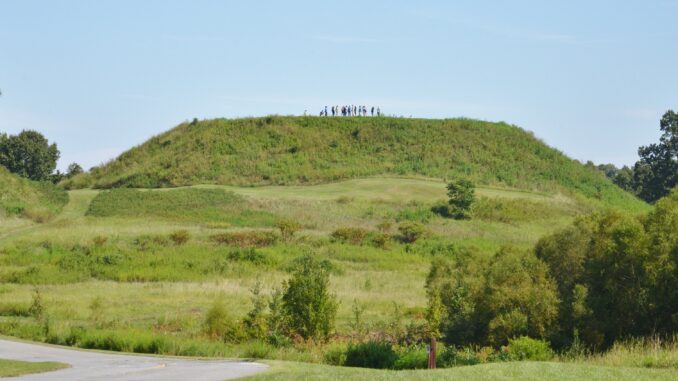 President Trump signed into law a bill that redesignated Macon's Ocmulgee National Monument as Ocmulgee Mounds National Historical Park.
The action also expanded the park from 702 acres to 2,800 acres.
"This has been a truly bipartisan, bicameral, and grassroots effort," U.S. Rep. Austin Scott, R-Ga., said in a news release. "I am excited to see the economic development and community benefits that this legislation brings Middle Georgia in the years to come."
Congress authorized Ocmulgee National Monument in 1934 to protect a portion of the lands known as the "Old Ocmulgee Fields." These lands contained historically relevant Indian mounds.
The original authorization envisioned a large park of approximately 2,000 acres, but local citizens could finance the acquisition of only 678 acres by 1936.
"After years of efforts to expand Ocmulgee, I was delighted to see the bipartisan legislation signed into law," U.S. Rep. Sanford Bishop, D-Ga., said in a news release. "Expanding it will increase the number of visitors, facilitate more learning opportunities, and bolster the economy of Middle Georgia."
Kennesaw Mountain Expanded
Meanwhile, Trump also signed the Kennesaw Mountain Battlefield Park Boundary Adjustment Act.
The act authorizes the secretary of the interior to accept a donation of approximately eight acres of property for Kennesaw Mountain National Battlefield Park. The park will add the Wallis House and Harriston Hill to its property.
"The signing of this bill marks the end of nearly a decade of legislative work, and begins an era of historic preservation at Kennesaw Mountain National Battlefield Park," Rep. Barry Loudermilk, R-Ga., said in a news release.
"The National Park Service can now acquire the historic Wallis House and Harriston Hill properties which, once restored, will greatly enhance the visitors' experience at the park and open the door to a greater understanding of the events that took place there," Loudermilk added. "I am proud to be a part of preserving a piece of our nation's history, and I thank the countless individuals and organizations who have worked so hard to see this happen."