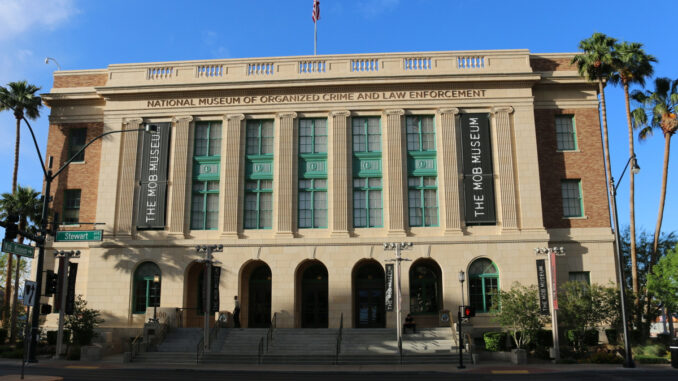 LAS VEGAS — No retelling of the history of Las Vegas would be complete without at least a mention of organized crime.
At first glance, a museum about the mob located in Las Vegas might almost seem a little cliché.
But, the National Museum of Organized Crime and Law Enforcement is hardly cliché. The award-winning museum provides a unique, well-researched look at a time in this country's history that had such a far-reaching effect it is still felt today.
"Within the walls of The Mob Museum are stories about the people who changed the face of organized crime and law enforcement forever," said Ashley Miller, the museum's senior director of marketing and sales. "From bootlegging during Prohibition to human trafficking, counterfeiting and cybercrime, organized crime has impacted society and, unfortunately, continues to do so today.
"We share those stories through a variety of ways and guests really enjoy how the information is presented, be it exhibition space, interactive experiences, videos or interactions with our staff," Miller added.
The museum opened on Feb. 14, 2012, in the former Las Vegas Post Office and Courthouse in downtown Las Vegas. The 42,000-square-foot, three-story edifice, built in 1933, is on the National Register of Historic Places.
The building's second-floor courtroom hosted one of the 14 Kefauver Committee hearings in 1950 and 1951 that helped uncover organized crime in the country. Today, it is the centerpiece of an exhibit on the televised hearings and how they changed the course of history.
The museum houses artifacts that bring to life some of crime's biggest names, including, Whitey Bulger, Al Capone, John Gotti, Charlie "Lucky" Luciano, George "Bugs" Moran and Ben "Bugsy" Siegel.
One of the museum's draws is the bullet-riddled brick wall that was the backdrop to the Saint Valentine's Day Massacre. Seven associates of Moran were killed in the 1929 massacre, said to be sanctioned by Capone, in the Lincoln Park neighborhood on the north side of Chicago.
The wall stood in its original location until 1967. After it was demolished, its bricks toured the country as part of a traveling exhibit.
On top of exhibits focusing on history, the museum also showcases organized crime's effect on culture and its role in shaping Las Vegas. It also has a wall dedicated to organized crime's "Greatest Hits." The wall includes crime scene photos — some more explicit than others — from such notorious hits as the December 1985 hit on Paul Castellano and Thomas Bilotti outside Sparks Steak House in Manhattan.
Following a visit to the museum, make time to visit the Underground at the Mob Museum, an "immersive Prohibition history exhibit" in the building's basement. The Underground features a working distillery with a custom-made, copper-pot still and a speakeasy.