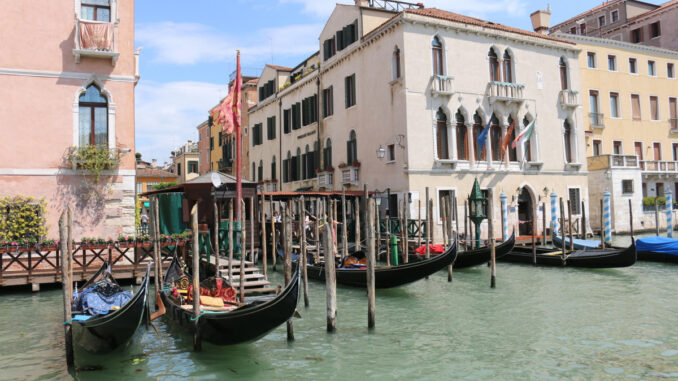 A gondolier in the famed city of Venice, Italy, recently lamented about how his patrons seemed more interested in looking at their mobile devices than enjoying a ride through the historic city, according to a report in The Local.
That is a shame. See, Venice is one of the most beautiful cities in the world.
But, this is a sad reality in the world today. Many people, it seems, are too busy to enjoy much of anything that is outside of a virtual world.
"What's the point of crossing this vast world, investing lots of money in a trip, only to be gripped by your phone?" The Local quoted Corriere columnist Aldo Cazzullo as writing.
It is, indeed, a fair question.
Sometimes I think the only reason some people travel is to snap a photo for their Instagram (or whatever social media platform they prefer).
It's perhaps no surprise that most people — 94 percent, according to a recent Expedia.com survey — agree vacations are important for general health and wellbeing. Furthermore, 91 percent say vacations help them feel more connected to their friends and family, but I don't think that means you're supposed to be on social media for your entire getaway.
Roughly one in four (24 percent) of Americans say they check in at least daily on a trip, even though 39 percent of respondents in the United States say this leads to more stress, the same Expedia.com survey revealed. There are a lot of reasons people are doing this: 68 percent of people worldwide use their mobile devices to check out activities while traveling, 58 percent share photos with friends and family and 55 percent check in on social media.
Because if you don't post an Instagram right away, you might as well not bother going. Might I suggest the Wikipedia page as an alternative?
There is no right or wrong way to travel. There is so much to see in the world, including the attractions and destinations that help provide context for the modern world.
In an era, where many destinations, including Venice, worry about how tourists affect their communities, don't be the type of tourist that makes cities and towns shut the door to visitors.
Just put down the phone for a few minutes. You might be surprised by what you see.