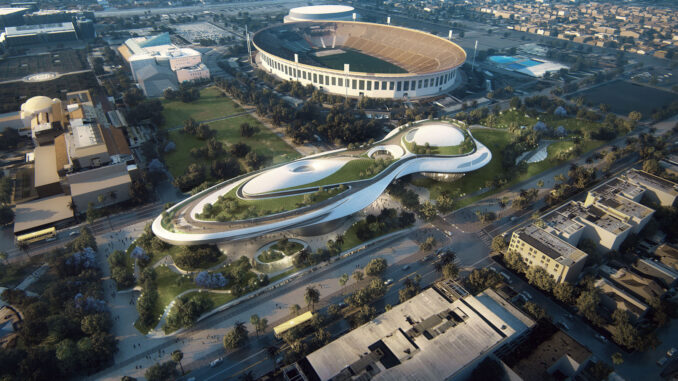 Filmmaker George Lucas has picked Los Angeles for the site of the Lucas Museum of Narrative Art, according to reports.
The museum will celebrate the power of visual storytelling through collections and exhibitions of narrative painting, illustration, photography, film and cinema arts, animation and digital art.
Both Chicago and in San Francisco were in the running. At one point, the museum focused on Chicago after four years of negotiation with The Presidio Trust in San Francisco over land where the museum was to be located in that city.
In Chicago, the museum was planned for the city's lake shore museum campus. Following resistance from the Friends of the Parks, the museum in June 2016, withdrew Chicago from its list of cities under consideration.
In a statement, Los Angeles Mayor Eric Garcetti said:
"Art exists to inspire, to move, to educate, and to excite. Thanks to George Lucas and Mellody Hobson, millions of Angelenos and visitors will enjoy an extraordinary collection anchored in storytelling — an art that carries so much meaning in the history and legacy of Los Angeles.

L.A. is gaining a new jewel with the breathtaking Lucas Museum of Narrative Art — and its presence here means that a day at Exposition Park will soon bring unrivaled opportunities to be immersed in stories told on canvas and celluloid, be moved by the richness of African-American history and expression, be awed by the wonders of science and the natural world, take a journey to the world of space exploration, and sit in the stands for a world-class sporting event.

I believed in the vision for the Lucas Museum, and we went after it with everything we have — because I know that L.A. is the ideal place for making sure that it touches the widest possible audience. I am deeply grateful to Mellody and George, and to our educational, governmental, and cultural leaders for their extraordinary support in helping us bring the museum home. Now it's time to build the vision."
In a statement, the Lucas Museum of Narrative Art Board of Directors said:
"After extensive due diligence and deliberation, the Board of Directors of the Lucas Museum of Narrative Art is pleased to announce plans to build the museum in Exposition Park in Los Angeles. We have been humbled by the overwhelmingly positive support we received from both San Francisco and Los Angeles during our selection process. Settling on a location proved to be an extremely difficult decision precisely because of the desirability of both sites and cities.

The board wishes to extend a special thanks to Mayor Ed Lee and the San Francisco Board of Supervisors for their tremendous efforts and engagement. While each location offers many unique and wonderful attributes, South Los Angeles's Promise Zone best positions the museum to have the greatest impact on the broader community, fulfilling our goal of inspiring, engaging and educating a broad and diverse visitorship. Exposition Park is a magnet for the region and accessible from all parts of the city. As a museum uniquely focused on narrative art, we look forward to becoming part of a dynamic museum community, surrounded by more than 100 elementary and high schools, one of the country's leading universities as well as three other world-class museums.

Now we turn our attention to finalizing the details and building what we believe will be one of the most imaginative and inclusive art museums in the world—a global destination that all Angelenos and Californians will be proud to call their own."