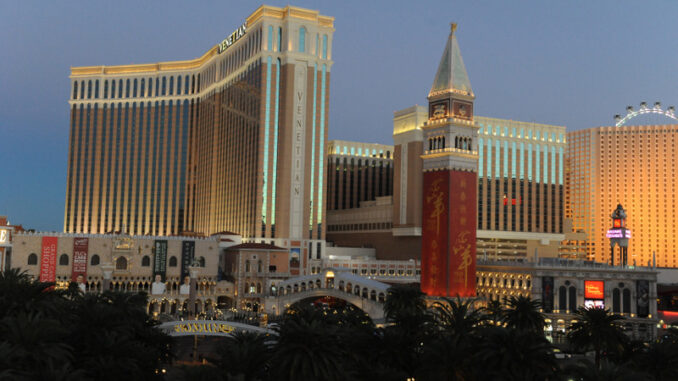 Throngs of family vacationers flock to Las Vegas for the copious kid-friendly activity and entertainment options the city now has to offer, but many seek luxury lodging that provides a reprieve from the casino atmosphere central to most of the hotels on the Strip.
One highly notable destination in this regard is The Venetian Resort Hotel and, more specifically, its stunning Venezia Tower. Set apart from the gambling hustle and bustle elsewhere on the property, The Venetian's Venezia Tower is a veritable oasis that offers discriminating family vacationers an elevated accommodations experience.
The Venetian is an award-winning resort hotel that has amassed numerous accolades, including being named "One of the Best Places to Stay in the World" by Conde Nast-Traveler. It also earned the AAA Five Diamond Award and the Forbes' Four Star Award, and it holds the distinction of being the only resort world-wide honored with the highly coveted Gold Key "Elite" and Gold Platter "Elite" awards by Meetings & Conventions Magazine for five consecutive years.
With my recent family vacation at The Venetian's Venezia Tower, I can attest that these awards, honors, and accolades are dutifully earned.
Vetting the Venezia Tower
With an exclusive building all its own conveniently located just off of The Venetian's main lobby is the $275 million, 12-story Venezia Tower. This spectacular suites-only set of accommodations boasts 1,013 impeccably appointed rooms spread across 10 floors.
The European flair of the hotel design is carried into each suite where no design detail is left unturned. Of course, each suite offers an abundance of superior features and amenities that The Venetian is known for.
This includes three or more flat screen LCD HD televisions, a fully stocked refreshment center, remote control Roman shades and curtains, a DVD player and CD/clock radio alarm. Technophiles in the family will also appreciate the dual phone lines with a data port and in-room fax/copier/printer.
A hallmark of a sumptuous suite are plush linens and bedding, and guests of the Venezia Tower revel in oversized 100% cotton bath sheets by Sobella, the Sealy pillow-top mattresses, crisp Egyptian Cotton Anichini bed lines, 100% goose down duvets and 400-count angora wool throws by Maxwell Rodgers of New Zealand.
The Venezia Tower bathrooms are equally far from ordinary. The opulent all-marble bathrooms are replete with a 17-inch LCD HD television, Roman tub with separate glass-enclosed shower, double-sink vanity and separate toilet area with telephone. Complimentary bath products from Agraria San Francisco are at the ready.
Beyond the suites themselves, the Venezia Tower offers a distinctly indulgent feel throughout the grounds, which features its own private pool garden, a romantic wedding chapel, and the award-winning Bouchon Restaurant. The private pool area features two pools, two hot tubs, an outdoor shower, and cocktail and food service from Bouchon in the summer months.
Venturing Beyond Venezia
While independent from the main Venetian hotel building, the Venezia Tower is still just steps away from the hotel's astounding array of restaurants, facilities, and activities. Kids and parents alike especially love the Gondola Rides at The Venetian's Grand Canal Shoppes, where Italian Gondeliers serenade patrons while floating on a winding canal in an authentic gondola amid lovely Venetian architecture.
Also resident at The Venetian is Madame Tussaud's Wax Museum where visitors of all ages are astounded by the lifelike wax creations of A-list celebrities, world leaders, and sports stars. During a recent stay, my family also thoroughly enjoyed a limited engagement exhibition of the "50 Greatest Photographs of National Geographic" being showcased at that time in the hotel's Imagine Exhibitions Gallery just off the main lobby.
This extraordinary traveling exhibition showcased some of National Geographic's most-remembered and celebrated photographs from its 125-year history, and spurred some invaluable family discussion.
Of course, no proper Vegas vacation is complete without good eats so it's notable that also on-site at The Venetian are 19 restaurants, including no less than seven James Beard Award winners. Among them is some family-friendly fare to suit all tastes. Zeffirino Ristorante brings Italy to Las Vegas with lunch and dinner that features authentic Italian cuisine, signature seafood entrees, and home baked bread made daily.
Another family favorite restaurant is the Grand Lux Café from the creators of The Cheesecake Factory. This casual dining eatery has an expansive menu that offers a wide range of culinary fare for breakfast, lunch, and dinner. Open 24 hours a day, seven days a week, the menu has everything, including pizza, burgers, pasta, salad, steaks and seafood as well as a dessert menu with 20 selections!
Of course, those immersed in a Vegas getaway deserve a little pampering, and The Venetian's award-winning Canyon Ranch SpaClub will deliver in spades. This state-of-the-art, 134,000-square-foot facility has more than 100 daily offerings, including copious massage, body treatments, skin care and beauty salon services.
A unique experience only offered at the Canyon Ranch SpaClub is the Aquavana, which is a complete European-inspired suite of thermal spa cabins, experiential showers, cold rooms and aqua thermal bathing experiences that mom and dad will certainly enjoy. Even youngsters can enjoy many of the spa and salon services offered.
While on vacation, the family can still focus on their health and fitness. Canyon Ranch SpaClub also offers fitness activities for beginners through advanced, exercise physiology, physical therapy, movement therapy and nutrition counseling. There are two fitness centers with more than 80 pieces of cardio equipment, 15 indoor cycling bikes, strength machines and free weights.
Daily fitness classes include the 40-foot indoor rock-climbing wall, aerobics, kickboxing, cycling, strength training, yoga, Pilates and Kenesis along with consultations, nutritionists, exercise physiologists and personal trainers.
Green Giant
Eco-conscious travelers will also feel good knowing that your family is staying in a hotel that is part of the largest "green" building complex in the world, which includes the Venetian, Palazzo, and Sands Expo and Convention Center. The complex has earned the U.S. Green Building Council for Leadership in Environment and Environmental Design (LEED) Existing Building Gold certification.
Among the property's proactive electrical energy and natural resource savings efforts are solar systems for the swimming pools and hot water, artificial turf and specialized irrigation systems, water-saving bath fixtures, a Nano filtration system for irrigation, bicycle valet and special parking areas for hybrid and alternative fuel vehicles, and a back end recycling program. For its part, this luxury resort clearly values conservation and is able to deliver an Earth-friendly family vacation with all of the lavish, world-class "fabulosity" one would expect at The Venetian.