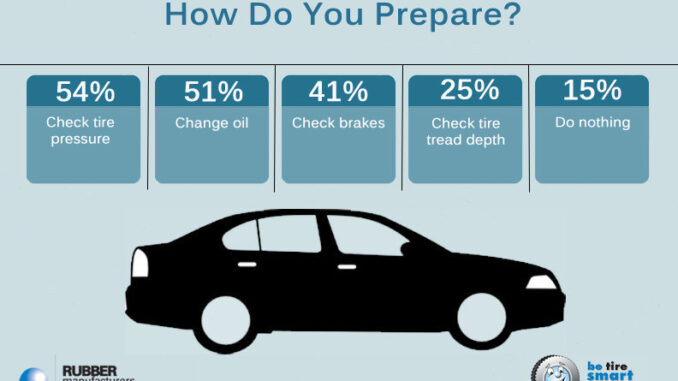 AAA predicts that nearly 90 million travelers will hit the road this holiday season, but a new tire industry survey found that nearly half will not bother to check tire pressure.
A survey sponsored by the Rubber Manufacturers Association (RMA) found that the top vehicle maintenance tasks motorists will take prior to holiday road trips are:
Check tire pressure: 54 percent
Oil change: 51 percent
Check brakes: 41 percent
Check tire tread depth: 25 percent
Check coolant level: 18 percent
Check battery: 17 percent
Nothing: 15 percent
"We're encouraged that more than half of holiday road trippers are taking steps to be tire smart and check tire pressure," Dan Zielinski, RMA senior vice president, public affairs, said in a news release. "But all motorists should be checking tire pressure before every long trip.  Fully loaded vehicles packed with people, luggage and holiday gifts that ride on under inflated tires present a safety issue."
RMA recommends simple steps for motorists to Be Tire Smart when checking tire pressure:
Check tire pressure monthly and before long trips.
Use the vehicle manufacturer's recommended tire pressure found on a label on the driver's door or owner's manual.
Check tires when cold – before you drive. Driving causes tires to warm which increases inflation pressure temporarily.