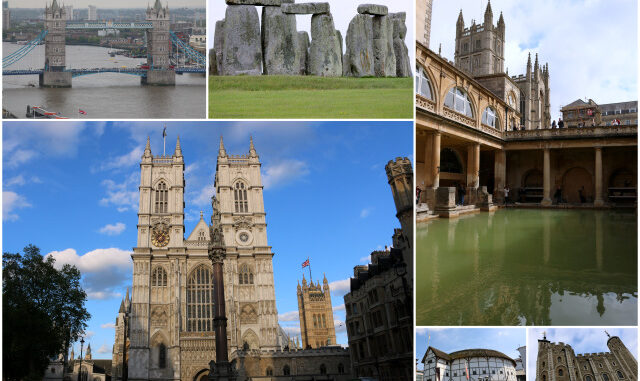 LONDON — England is one of the great destinations for travelers. The country is home to some of the greatest tourist attractions, including stunning churches, prehistoric monuments and iconic structures instantly recognizable worldwide.
Here are six must-see attractions on a trip to England.
Roman Baths, Bath
The Roman Baths for which this southwestern England city is named, are some of the most remarkable Roman ruins outside of Rome itself. The natural hot springs were used long before the Romans under Emperor Claudius invaded Britain starting in 43 AD. Archaeological evidence shows human activity around the springs dating to 8,000 BC, though the area may have been too hot and swampy for a permanent settlement.
Stonehenge, Wiltshire
Stonehenge is one of the world's great mysteries. The prehistoric monument, located in Wiltshire, England, west of Amesbury and north of Salisbury, was likely built circa 3000 to 2000 BC.
Tower of London, London
The Tower of London is a quintessential London landmark. The tower, which dates to 1078, is one of London's most popular tourist attractions and is home to the Crown Jewels.
Westminster Abbey, Westminster
Westminster Abbey, officially the Collegiate Church of St Peter at Westminster, was built in the 10th century. The coronations of British monarchs have been held at Westminster Abbey since 1066, and the Abbey has been the site of more than 15 royal weddings.
Tower Bridge, London
The famed Tower Bridge was built between 1886 and 1894. The suspension bridge is a true icon of London and is so named because of its close proximity to the Tower of London. The bridge was painted in its current scheme in 1977 in honor of Queen Elizabeth II's silver jubilee.
Shakespeare's Globe Theatre, Southwark
Located in the London Borough of Southwark, Shakespeare's Globe Theatre opened to the public in 1997 and is a replica of the original theater originally built in 1599 and rebuilt in 1614 after it was destroyed by fire a year earlier. Situated on the south bank of the River Thames, Shakespeare's Globe Theatre is a great theater for seeing the plays of William Shakespeare as the playwright intended them to be performed.