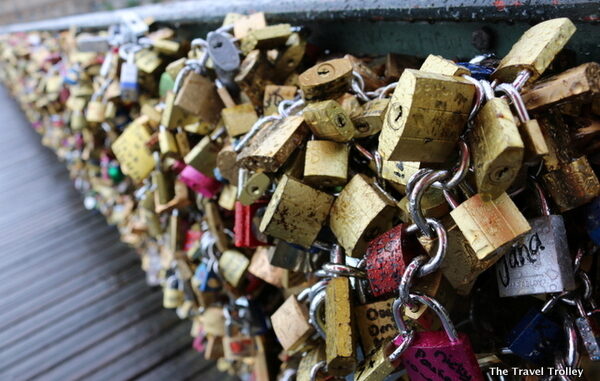 Can anything stand in the way of love? Weight apparently.
A section of fencing on Paris' famous Pont des Arts collapsed Sunday evening under the weight of thousands of locks. Lovers, according to tradition, attach locks to the fencing then throw the key into the River Seine below, a sign their true love will never fade.
After the railing collapse, the bridge was evacuated, and is apparently set to reopen on Wednesday, according to various media reports. It's not immediately clear what the collapse means for any couples whose locks might have been attached to the compromised section of the bridge's fence.
The locks, according to The Associated Press, are removed by the city from time to time, but are quickly restored by lovebirds. Some residents in
The Guardian newspaper previously reported city officials were concerned about the weight of the locks, but hesitated to take action because of the bridge's popularity among tourists.
According to Reuters, Bruno Juillard, the city's elected head of cultural affairs, said in a tweet posted to the city's website the collapse "confirms that our desire to find an alternative to these locks is a real necessity."