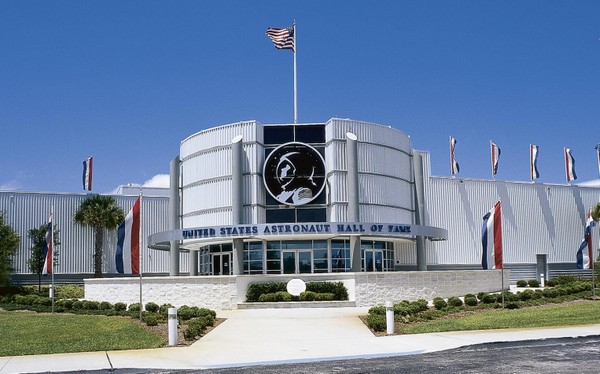 CAPE CANAVERAL, Fla. — Some of the names are embedded in the American psyche like few other modern-day figures: Alan Shepard, John Glenn, Buzz Aldrin, Jim Lovell and Sally Ride.
They along with more than 70 other space pioneers have earned their way into American history by daring to dream big, working with determination and embracing the unknown in the line of duty. Their stories, from manned space programs Mercury, Gemini, Apollo and Space Shuttle, are accessible to the world at the U.S. Astronaut Hall of Fame, part of Kennedy Space Center Visitor Complex.
Equal parts illumination and exhilaration, the U.S. Astronaut Hall of Fame shares the human story behind space travel in a heretofore-unprecedented fashion, with the largest collection of astronaut artifacts and mementos ever assembled. Among the thousands of artifacts donated from astronauts' personal collections: Gordon Cooper's May 15, 1969 TV cue cards inscribed "I'm go for 22," Jim Lovell's boy scout handbook, Gus Grissom's Mercury 7 flight suit and helmet, Buzz Aldrin's high school football jersey, and Alan Shepard's MR 3 umbilical plug, his last physical link to Earth during the first U.S. manned spaceflight aboard Freedom 7.
Also on display are astronaut journals to be read and recordings of countdowns to be heard. Complementing this expansive collection is the Mercury Sigma 7 capsule flown by Wally Schirra in 1962.
Honoring the latest chapter in America's manned space program is Space Shuttle: The Astronaut Experiences. Through the astronauts' testimonials, unique personal experiences and more than 60 authentic artifacts, the space shuttle exhibit creates a personal connection with visitors, bringing to life the enduring stories of the space shuttle men and women honored in the U.S. Astronaut Hall of Fame.
Also features at the Hall of Fame is Science On a Sphere, a global display that takes visitors on a three-dimensional journey around the world and throughout the solar system via dynamic, animated images of the atmosphere, oceans and planets. The sphere provides guests with a representation of a view of the Earth and planets as if they were viewed from space.