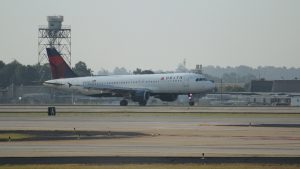 ATLANTA — A 500-foot runway extension opened last month at Hartsfield-Jackson Atlanta International Airport.
The extension of Runway 27R will give the airport more flexibility for operations in addition to increasing safety, officials say.
The $40 million extension project was funded with passenger facility charges and grants from the Federal Aviation Administration. The runway, the airport's longest, opened July 16.
"This is exactly the type of infrastructure project that adds to the overall efficiency of Hartsfield-Jackson," Atlanta Mayor Kasim Reed said in a news release. "It not only saves our passenger and cargo air carriers time and money but also strengthens Atlanta's position as a preferred gateway for international business and tourism."
The 2.34-mile-long runway is the airport's primary runway for emergency landings. As part of the project, the airport also extended a pair of taxiways (L and M) and built three others (LA, LB and LC).
"The runway extension allows long-haul aircraft to fly longer distances nonstop, because they can hold more fuel on takeoff," Aviation General Manager Louis Miller said in a news release. "An additional 500 feet here means our passenger and cargo carriers can reach nonstop destinations hundreds of miles farther away than they could before."