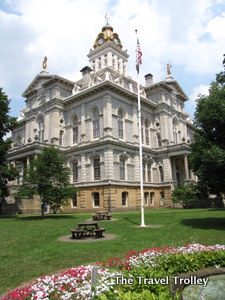 The Greater Licking County Convention & Visitors Bureau has named a lifelong resident of Licking County to serve as its next executive director.
Dan Moder has more than 20 years in the hospitality industry, the organization said in a news release.
"The search committee was very focused to find a candidate that brought enthusiasm and drive to increase revenues and bed tax dollars for the county, we are very pleased with our unanimous decision and look forward to building on to what is already a successful organization," Carol Thress, president of the Board of Directors for the Greater Licking County Convention & Visitors Bureau, said in a statement.
Licking County is located east of Columbus. Attractions in the county include The National Heisey Museum, The Newark Earthworks, Dawes Arboretum, Longaberger Basket Co., Velvet Ice Cream, Midland Theatre, Cherry Valley Lodge and CoCo Key Water Resort and National Trail Raceway.
For more information, visit www.granvilleoh.com.