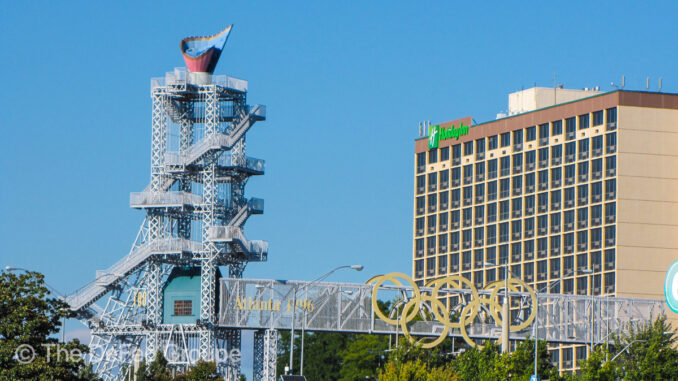 ATLANTA – It's been 16 years since Atlanta hosted the Summer Olympics, but the games' lasting impact can be felt even today.
The city's subway system was extended, new sporting venues were built and a new downtown centerpiece was completed for the games, which coincided with the 100th anniversary of the first modern Olympics.
The 1996 games are often credited with turning Atlanta into the major international city that it is today.
The largest sports venue built for the games, Olympic Stadium, lives on, albeit it in an altered state. Today, the stadium is known as Turner Field and is home of Major League Baseball's Atlanta Braves.
The stadium hosted the opening and closing ceremonies as well as track and field events during the games. Following the closing ceremony, the stadium was transformed into a ballpark.
Within walking distance of Turner Field is perhaps the most apparent Olympic symbol that remains in town: the Olympic torch.
The torch was originally located in Olympic Stadium. After the games, it was moved to its current location at the intersection of Fulton Street and Capitol Avenue.
At Pershing Point in Midtown Atlanta is the World Athletes Monument, also known as the Prince Charles Monument. The four-story-tall monument features five bronze statues holding up a globe and standing atop a limestone base.
The Prince of Wales gave the statue to the city as a gift to commemorate the games. Over the years, the monument has serves as a gathering place for Atlantans commemorating major national or international events, including the 1997 death of the Princess of Wales, Princess Diana.
Another monument, "The Flair," was dedicated less than two weeks before the games began on July 19, 1996. The statue stands near the Georgia Dome, which hosted basketball and gymnastics during the Olympics.
One last location worth noting is Centennial Olympic Park.
The 21-acre park, today a centerpiece of downtown Atlanta's tourist district, was built as a central green space and remains a popular place for outdoor events. The park, which helped positively transform downtown Atlanta, is surrounded by some of the city's biggest tourist destinations, including the Georgia Aquarium and CNN Center.
Sadly, the park is associated with the July 27, 1996, Olympic bombing that claimed two lives and injured more than 110 people.
Outside of Atlanta, Athens and Savannah, which hosted Olympic events, have also erected monuments to commemorate their roles in the games. In Athens, the "Torchlighter" is located outside of City Hall, while the "1996 Olympic Yachting Cauldron" in Savannah is located along the Savannah River in the city's downtown.