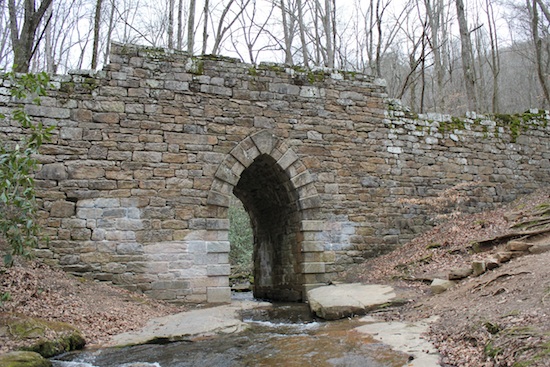 TIGERVILLE, S.C. — At first glance, the stone bridge with a Gothic arch in the middle of the woods off a state highway might seem out of place.
But this bridge — said to be the oldest bridge in The Palmetto State still in existence — once sat along the vital Saluda Mountain Road running from Charleston to Columbia and into North Carolina. One of three bridges built along Saluda Mountain Road, it is the only one still standing.
Traditional history held that Joel R. Poinsett designed the bridge crossing Little Gap Creek, a tributary of the North Saluda River, between 1817 and 1819. Other sources indicate that Robert Mills, a noted architect from South Carolina, actually designed the bridge.
At the time he was said to have designed the bridge, Poinsett was the director of the South Carolina Board of Public Works, but during his career, the Charleston also served as the U.S. ambassador to Mexico under President Andrew Jackson. Elected to Congress in 1820, sources indicate Abram Blanding oversaw the completion of the bridge, although the progress of construction was apparently delayed as a result of the availability of local liquor.
The bridge — today known as the Poinsett Bridge — was built using "wedge-shaped rocks," negating the need for concrete, according to a 1970 National Register of Historic Places nomination form. However, other sources indicate mortar was used in the bridge's construction.
The bridge apparently remained in use — albeit it at a much reduced rate — until 1955 or 1956 when County Road 42 was realigned. By 1970, the Carolina Foothills Garden Club was clearing the area around the bridge, and by about 2000, the bridge was in disrepair, news accounts from the time suggest, and vandals had removed a number of the bridge's stones.
In October 2003, the state's Natural Resources Department gave the bridge Heritage Trust Preserve status. The bridge now sits in the 120-acre Poinsett Bridge Heritage Preserve.
The bridge is located off U.S. Highway 25 near South Carolina Highway 11, roughly five miles from the North Carolina state line. Interestingly, and unrelated to the bridge, Poinsett is the namesake for the poinsettia flower, which he is credited with introducing to the United States from Mexico.