Tombstone Courthouse State Historic Park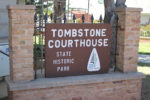 Name:
Tombstone Courthouse State Historic Park
Description:
There are two versions of Tombstone. The first is the stuff of legends. The second is the real history, which while entertaining and almost unbelievable, is a little less grandiose. For anyone especially interested in learning the full story of Tombstone, a visit to the Tombstone Courthouse is an absolute must. Cochise County built the courthouse in 1882 for administrators of the then-newly created Cochise County. It remained in use until 1929, when the county seat relocated to Bisbee. After its abandonment, proprietors planned to repurpose the courthouse as a hotel, but today the courthouse houses a museum dedicated to telling the historically accurate story of Tombstone.