Fort Clinch State Park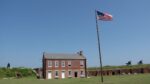 Name:
Fort Clinch State Park
Description:
Construction on Fort Clinch started in 1847 after the Second Seminole War on a peninsula near Amelia Island's northernmost point. The only battle at the fort, named in honor of General Duncan Lamont Clinch, a leader in the First and Second Seminole Wars, happened during the Civil War. In 1862, Union troops recaptured the fort after Confederates seized control of the structure. The state of Florida bought the fort in 1935. Today, the fort is part of the 1,100-acre Fort Clinch State Park, which opened to the public in 1938.