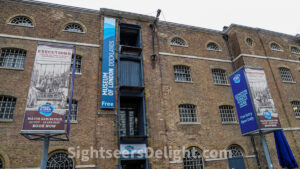 Description
The Museum of London Docklands in West India Quay tells the ever-changing story of London from 450,000 BC to the present day. The galleries, exhibitions, displays, and activities aim to ignite enthusiasm for London and showcase the city's vibrant and distinctive character. The museum explains the River Thames' history, the Port of London's growth, and the docks' historical link to the Atlantic slave trade. It opened in 2003 and is housed in a Grade I listed early-19th century Georgian "low" sugar warehouse built in 1802 on the north side of West India Docks, just a short walk from Canary Wharf.
Address
No 1, West India Quay, Hertsmere Rd, London E14 4AL, United Kingdom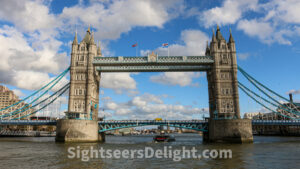 Description
Of all the landmarks in London, Tower Bridge sits near the top of the list, perhaps trailing only its namesake tower. The bridge, built between 1886 and 1894, crosses the River Thames near the Tower of London. The structure, which features a pair of towers, is unique in that it is both a bascule (draw) and suspension bridge. The Prince of Wales, the future King Edward VII, and his wife, Alexandra of Denmark, formally opened the bridge on June 30, 1894. The 800-foot-long crossing, often mistaken for the London Bridge, features a pair of 213-feet-tall towers and a 200-foot-long central span.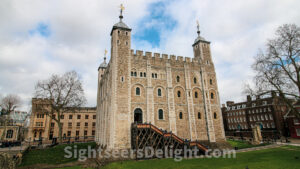 Description
The Tower of London is perhaps the single most famous London landmark, best known for its history as a jail. Today, the tower, which dates to 1078, is one of London's most popular tourist attractions and is home to the Crown Jewels. The tower, which sits on the north bank of the River Thames, has been besieged at various times and controlling the edifice has been critical to control of England. Its peak use as a prison was the 16th and 17th centuries. Among the many prominent people "sent to the Tower" are Anne Boleyn, Sir Walter Raleigh and Elizabeth Throckmorton.
Address
St Katharine's & Wapping, London EC3N 4AB, UK