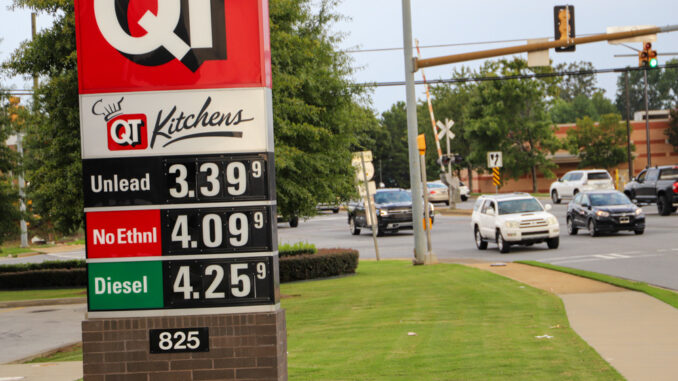 Returning the inflation rate to 2% could be bumpy, and multiple "factors" could derail the path, the head of the Federal Reserve Bank of Atlanta said.
"One more percentage point may not sound like much, but the path from here to the target rate probably will not be a straight, unbroken line," Raphael Bostic, president and CEO of the Federal Reserve Bank of Atlanta, said in an op-ed. "It hasn't been that way yet. The trend of declining inflation over the past 12 months has included occasional blips."
"…As for the stance of monetary policy, I believe it is sufficiently restrictive now," Bostic added. "And because I expect the path to 2 percent inflation to be bumpy, I believe our policy rate must remain at this level well into 2024."
According to the Personal Consumption Expenditures price index, the Federal Open Market Committee's "preferred gauge," the inflation rate has decreased from 7% last summer to roughly 3%.
"Many factors could derail inflation's continued progression to our 2 percent target," Bostic said. "One wildcard is the price of energy, not only because of its direct impact on the price of consumer staples like gasoline, but also because petroleum is a key ingredient in myriad goods and services and therefore affects those prices too.
"…A second risk is the ever-present specter of geopolitical shocks," Bostic added. "The war in Ukraine, for example, triggered higher broad-based inflation globally, especially in Europe, and it took many months to unwind."
Bostic noted the end of "pandemic-era supports," including childcare subsidies and student loan forbearance, "could translate into a steeper reduction in aggregate demand."
"Similarly, many American families are spending down the extra savings they've enjoyed," Bostic said. "People accrued heftier bank balances in part due to a healthy labor market and pandemic-era supports at a time when lockdowns limited spending options.
"Today, bankers tell our staff and me that while the balances of many customers remain higher than they averaged before the pandemic, a growing share of depositors' balances are at or slightly below prepandemic levels," Bostic added. "For these latter customers, spending could decline significantly, which would put additional downward pressure on inflation."