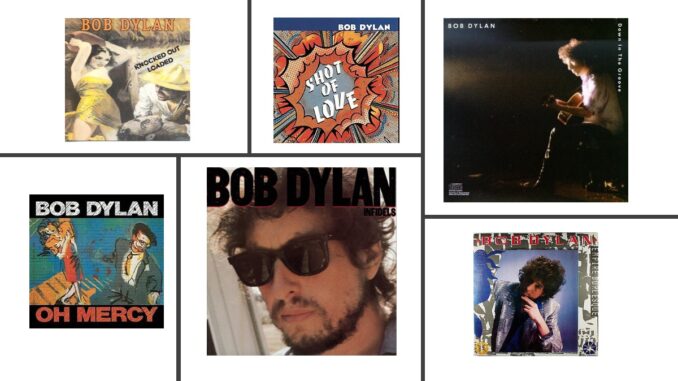 If you're to look at Bob Dylan's output in the 1980s and judge it based solely on his studio albums, you might walk away disappointed.
But when you take into account the plethora of released material since then through The Bootleg Series releases, we now have a more complete picture of what the artist produced during the decade.
When you look at the era with that additional context, it's clear the 1980s were not the nadir of Dylan's career, even if it was an era that didn't produce the high level of studio albums from 20 years earlier.
It's not that the material was bad. While the material may not be as strong as what Dylan produced in the 1960s or 1970s, the songs are still very strong.
If he hadn't released Knocked Out Loaded or Down in the Groove, how different might the 1980s be judged for Dylan?
Yes, if you look at his 60-year career, the 1980s — perhaps the 1990s — might be the weakest decade for his output. One decade will inevitably rank as the weakest, but like everything Dylan does, his weakest tends to be stronger than most other artists' best effort.
Here is a look at 20 of my favorite songs Dylan recorded and released in the 1980s (for the sake of argument, I considered songs from Shot of Love through Oh Mercy, deciding Saved could fall into a different category):
Angelina (Springtime in New York)
Caribbean Wind (Biograph)
The Groom's Still Waiting at the Altar (Shot of Love)
Every Grain of Sand (Shot of Love)
Jokerman (Infidels)
Sweetheart Like You (Infidels)
License to Kill (Infidels)
Don't Fall Apart on Me Tonight (Infidels)
Lord Protect My Child (The Bootleg Series, Vol. 3)
Blind Willie McTell (Springtime in New York)
Too Late (band version, Springtime in New York)
Tight Connection to My Heart (Has Anybody Seen My Love) (alternate mix, Springtime in New York)
I'll Remember You (Empire Burlesque)
When the Night Comes Falling from the Sky (The Bootleg Series, Vol. 3)
New Danville Girl (Springtime in New York)
Silvio (Down in the Groove)
Series of Dreams (Tell Tale Signs)
Dignity (Side Tracks)
Most of the Time (Oh Mercy)
Shooting Star (Oh Mercy)
While this list is a strong primer, it leaves off gems like Born in Time and God Knows from Tell Tale Signs.