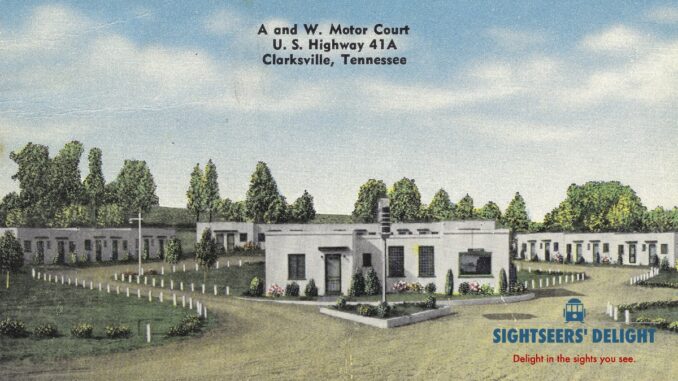 CLARKSVILLE, Tennessee — Old postcards often highlight destinations we wouldn't necessarily think to highlight today.
A perfect example is the A&W Motor Court in Clarksville, Tennessee.
The motel opened in mid-February 1947 and still stands along Madison Street, or U.S. Highway 41A, near downtown. The establishment, initially owned by John Anderson and T.F. Ware, was located just outside of Clarksville's city limits at the time of its opening.
About 1,500 people turned out for the motor court's "open house" from 3 p.m. to 5 p.m. on Sunday, February 16, 1947. "Spectators were permitted to inspect the new features and a very large floral salute was made," the local newspaper reported.
The local newspaper boasted the new 26-unit motor court was "one of the most modern and up-to-date motor courts on the highway between Chicago and Miami." It boasted "white fireproof masonry," electric heaters, ceiling fans and a tiled bath with hot and cold water.
Orgain Building Supply provided lumber and building supplies, while Anderson & Welker provided the electric water heaters and electric head. C.C. Sawyer & Sons laid the concrete bricks.
The first guests we a couple traveling from Pittsburg to Phoenix, Arizona. He was a veteran of the "European war," and she was his "war-bride," the newspaper reported.
The motor court was later renamed the A&W Motel.