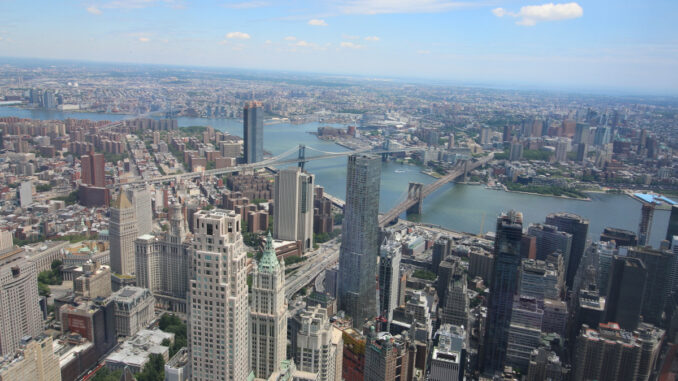 (The Center Square) – Proposed federal legislation would bar congestion taxes on New Jersey residents driving into Manhattan's "Central Business District" south of 60th Street.
The Metropolitan Transportation Authority (MTA) wants to use the proceeds of the congestion taxes to help fund its capital projects. But U.S. Reps. Josh Gottheimer, D-N.J., and Chris Smith, R-N.J., want to put the kibosh on the plan with H.R. 2523, the Anti-Congestion Tax Act.
The measure would bar the transportation secretary from giving Capital Investment Grants for MTA projects in New York until drivers using the New Jersey crossings into Manhattan are exempted from the congestion tax. It would also give drivers a federal tax credit equal to the amount they paid in congestion taxes entering Manhattan from one of the three New Jersey crossings.
"The relationship between New York and New Jersey is a driving economic force, not only in the country, but in the world," Gottheimer said in a news release. "Our states are deeply intertwined, and it is tradition for New York and New Jersey to work together. That is why the proposed $3,000 a year congestion tax is such a slap in the face to New Jersey commuters."
Under the tax, a commuter from New Jersey would pay a $16 toll at the George Washington Bridge and $15 to drive south of 60th Street in Manhattan. According to reports, congestion pricing could bring in $1 billion annually.
"Yes, $31 dollars a day or more just to drive to work in New York City – or to see friends or family," Gottheimer said in remarks unveiling the legislation. "That's absurd double taxation at its finest."
Earlier this year, Gottheimer and U.S. Rep. Nicole Malliotakis pushed H.R.2476, the Economic Impact of Tolling Act. It would require economic impact statements to provide more information about the impacts of congestion pricing on workers, residents and businesses.
In March, the U.S. Department of Transportation advanced New York's congestion pricing plan.
However, it is not entirely clear whether New York will proceed with the congestion pricing plan. Gottheimer pointed to remarks MTA Chief Financial Officer Bob Foran made during a June board meeting when he said the agency was "not in a position now to really be needing absolutely at this point in time the congestion pricing proceeds for the capital program," according to WCBS Radio.
"Right now we're fronting the capital program with the sales tax monies that we have and the mansion tax monies that we have," Foran added, according to the report.