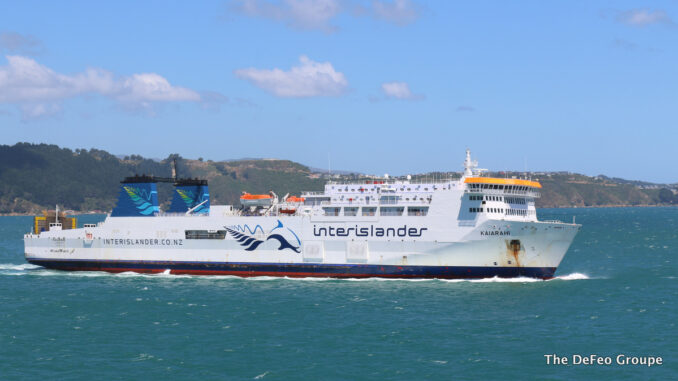 KiwiRail is moving forward with procuring two new ferries for its Interislander service crossing the Cook Strait.
Interislander currently operates three ferries, moving roughly 800,000 passengers and upwards of NZD 14 billion worth of road and rail freight between the North and South islands of New Zealand annually.
Officials expect the new vessels, which will have increased capacity, to arrive for service in 2024 and 2025. New Zealand last introduced a new purpose-built ferry to its fleet more than 25 years ago.
"The new ships will strengthen and enhance the vital transport link between the North and South Islands and represent a once-in-a-generation opportunity to transform the Cook Strait crossing," Group Chief Executive Greg Miller said in a news release.
The new ferries will be approximately 40 meters longer and at least five meters wider than the current vessels.
The ferries serve as an extension of State Highway 1 and the Main Trunk Line across Cook Strait. The service links the country's road and rail networks between the North and the South islands.
Request for Proposal issued
KiwiRail has issued a Request for Proposal (RFP) to find a preferred shipyard to build the Interislander ships.
"Only overseas shipyards have the ability to build ferries of the size and standard needed for the Cook Strait," Miller said. "However, the project also involves new infrastructure including terminals, linkspans, and marshalling yards which will create numerous Kiwi jobs in Picton and Wellington. Community engagement has already begun in Picton for the proposed new terminal there."
The government has included NZD 400 million in its 2020 budget.
"We are engaging our Interislander staff in the design of the ferries to ensure the ships are not only great for passengers, but also for those who work on them," Miller said. "Our new ferries and the associated port infrastructure will provide greater resilience for this crucial link that unites our country and will serve New Zealand for the next generation and beyond."