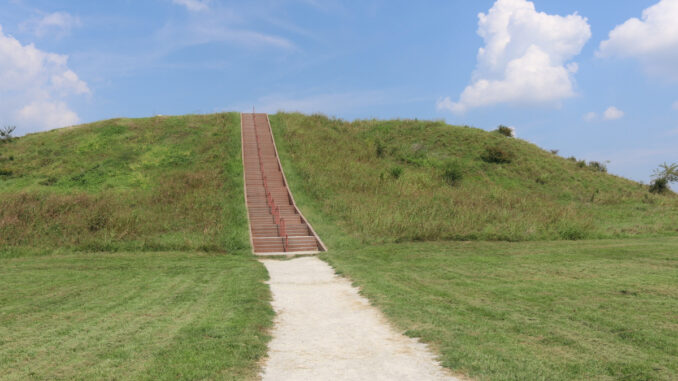 By Scot Bertram, Illinois News Network
An effort is underway to establish a downstate site as a national historical park.
Supporters are trying again to convince federal lawmakers to make Cahokia Mounds a part of the National Parks Service. The 2,200-acre site in Collinsville draws about 300,000 visitors a year.
Ed Weilbacher, vice president at HeartLands Conservancy, said Cahokia Mounds more than qualifies for the designation.
"These are earthen mounds built around 1000 A.D. and it was through a society or a culture called the Mississippians," Weilbacher said. "And there are on par with the pyramids in Egypt and the ruins in Mexico. So they're at that level, that significant."
The various mounds are believed to signify different things. Some reflected status in society, while others were used as marker mounds or even burial mounds.
"This site was the first organized culture on the North American continent, north of Mexico," Weilbacher said. "It was the first time people came together and created a governing structure, an economic society trading with other people. Prior to that, it was all hunter/gatherer, just people who just lived and subsided on the land with no formal structure."
The National Park Service is an agency that manages all national parks, many national monuments, and other conservation and historical properties with various title designations. The NPS currently oversee 61 designated national parks.
"There are no other mounds within the National Park Service that represent the Mississippian culture as holistically and uniquely as Cahokia Mounds," Weilbacher said. "Combined with the surrounding satellite mound centers, Cahokia Mounds emerges as the most significant and unsurpassed example of its time period."
Weilbacher said an official designation from Washington would make a big difference for the area, including bringing more resources and staff in from the NPS.
"Probably more than anything, it brings a national brand to the site," Weilbacher said. "That national brand of the National Parks Service is golden. People want to go to national parks. They know when they go to those sites, it's special, it's unique, and it's the best of the best."
Supporters are working with local congressional leaders on new legislation to push the effort forward.
"We tend to not understand that we've got a resource here that is so valuable and could put us on the map for this Mississippian culture," Weilbacher said. "That really would pay dividends for the region."
This story was first published on the Illinois News Network.