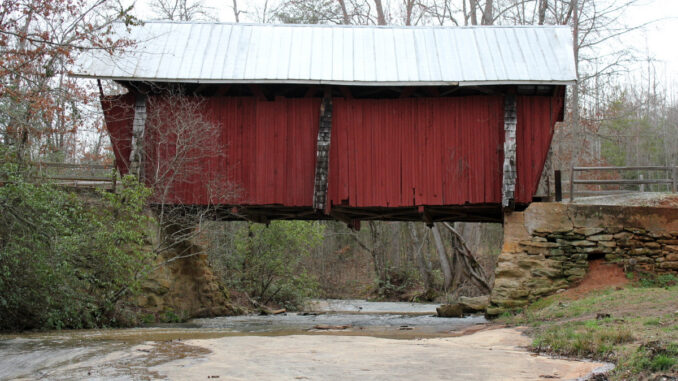 GREENVILLE, S.C. — Campbell's Covered Bridge is not just a photographer's paradise. The bridge is a unique South Carolina landmark in that it is the only covered bridge remaining in the state.
Charles Irwin Willis, an accomplished builder in the area, built the wooden bridge in 1909. The bridge, which crosses Beaverdam Creek, is named for Alexander Lafayette Campbell, who owned a nearby grist mill for many years; he owned 194 acres in the area at the time of the bridge's construction.
According to a National Register of Historic Places filing, Willis "allowed the truss ends to follow the natural lay of the land and built the rest of the bridge to fit; as a result—and according to Willis's design—the bridge is neither square nor plumb."
Vehicles were allowed to cross the bridge, which measures 35 or 38 feet long, depending on the source, until 1984. Renovations to the bridge, today owned by Greenville County, took place in 1964 and 1990.
The bridge, one of four covered bridges built in the northern section of Greenville County during the first decade of the 20th century, is located close to another famous bridge: the Poinsett Bridge.