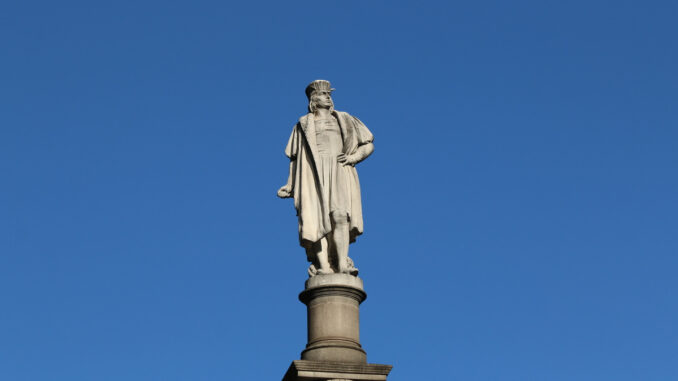 NEW YORK — Christopher Columbus can stay.
Following a review, New York City Mayor de Blasio's Mayoral Advisory Commission on City Art, Monuments and Markers decided the monument in Columbus Circle in Manhattan can stay. However, the city will install "additive measures to continue the public discourse" at the monument.
Hizzoner last year said the city would review monuments that "may suggest hate."
There are more than 1,000 monuments, including 300 sculptures, scattered across New York City. In addition to Columbus, famous historical figures memorialized include George Washington and William Tecumseh Sherman.
"Thousands of New Yorkers got involved in this process, and there's been an important conversation going on across the city," Mayor de Blasio said in a news release. "Reckoning with our collective histories is a complicated undertaking with no easy solution. Our approach will focus on adding detail and nuance to – instead of removing entirely – the representations of these histories. And we'll be taking a hard look at who has been left out and seeing where we can add new work to ensure our public spaces reflect the diversity and values of our great city."
In addition to the Columbus monument, the Theodore Roosevelt statue outside of the American Museum of Natural History in Manhattan will stay, and additional signage will likewise be added. A statue of J. Marion Sims at the intersection of 5th Avenue and 103rd Street will be relocated to Green-Wood Cemetery in Brooklyn.
City officials will also keep a plaque dedicated to Henri Philippe Pétain in the Canyon of Heroes. They are looking into adding additional signs here as well.