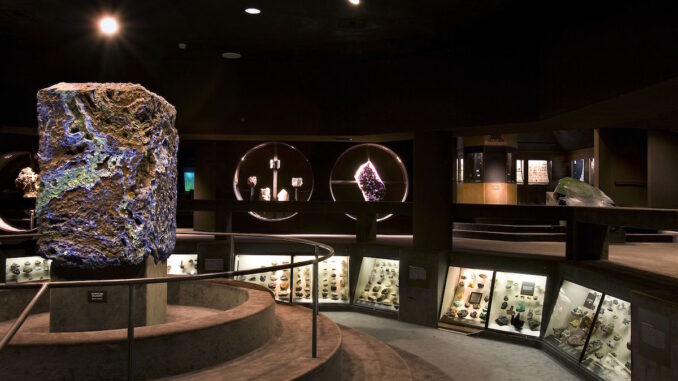 The American Museum of Natural History is updating its Morgan Memorial Hall of Gems and Harry Frank Guggenheim Hall of Minerals.
Once completed, new exhibits will tell how 4,500 different types of minerals arose on the dynamic planet, how scientists classify them and how humans have fashioned them into gems and used them throughout history for personal adornment, tools and technology, the museum said in a news release.
In advance of the redo, the Museum unveiled a sparkling 12-foot-tall amethyst geode recently acquired from Uruguay. The geode will be on temporary view in the Museum's Grand Gallery through the 2017 holiday season and will be a centerpiece in the new halls. It is among the largest amethyst geodes in the world.
Look what just arrived! With this big geode comes big news for the Museum—learn which halls are being transformed: https://t.co/xSoskgUEJ5 pic.twitter.com/zcMqfisva1

— MuseumNatHistory (@AMNH) October 16, 2017
"Whether you're talking about the spectacular 563-carat Star of India sapphire or the unique almandine 'subway garnet' unearthed in New York City in 1885, the American Museum of Natural History is known for having one of the most spectacular and comprehensive collections of gems and minerals in the world," Museum President Ellen V. Futter said in a news release.
The halls will be named for Roberto and Allison Mignone, long-standing Museum supporters and volunteers. Roberto Mignone is a Museum Trustee and Allison Mignone is Vice Chair of the Museum's Campaign.