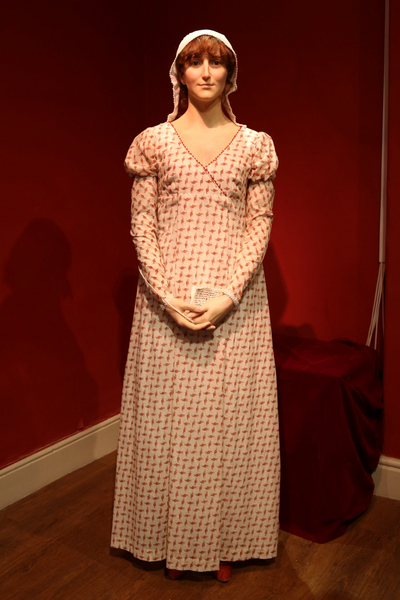 The Jane Austen Centre in Bath, England, has unveiled a waxwork figure of the famed author, allowing people to see the face of Jane Austen for the first time.
Developed from a forensic portrait of the author by Melissa Dring, the waxwork took more than two years to complete. The team that created the waxwork figure, completed with an authentic-period costum, included internationally-renowned sculptor Mark Richards; Melissa Dring, an FBI-trained forensic artist; and Andrea Galer, a Bafta and Emmy award-winning costume designer.
The novels of Jane Austen are known throughout the world, her heroes and heroines have been brought to life in many adaptations, and the industry which has built up around her name is significant. So whilst people happily associate Jane Austen's characters with the actors who portray them, perhaps most famously Colin Firth as Mr Darcy, there remains a real desire to possess a likeness of the writer herself.
The only verifiable image of Jane Austen is a small watercolour painted by her sister Cassandra but it has been acknowledged by experts as a poor attempt and was described by her niece as "hideously unlike" her aunt Jane. However, there are many contemporary descriptions of her by friends.
"Forget that glum picture of her we are so used to seeing, she looks like she's sucking lemons or prunes," the Bath Chronicle quoted Dring as saying. "Jane was not like that at all. She was fun, witty and full of sparkle."