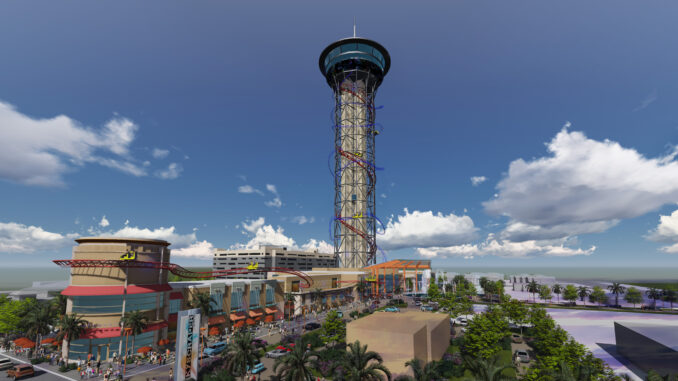 The world's tallest roller-coaster and entertainment complex is planned to open in Orlando by 2016.
The Skyscraper at SKYPLEX is planned to be built at International Drive and Sand Lake Road, near the soon-to-open Orlando Eye 425-foot ferris wheel. The $200 million SKYPLEX will comprise approximately 495,000 square feet located on 12 prime acres.
SKYPLEX will break ground in 2015 and is expected to open the following year, officials said. The Skyscraper at SKYPLEX will be 570 feet tall and will feature the first Polercoaster built.
"Next to our theme parks, International Drive is one of the most recognized icons of Orlando," Visit Orlando president and CEO George Aguel said in a news release. "It's exciting for our tourism community to see this type of investment being made to continuously raise the bar on the dining and entertainment experiences we offer across our destination."
This mega-thrill ride is a vertical rollercoaster created with coaster-length tracks featuring "all the other thrilling mayhem" of a great coaster experience, but "in a very small footprint," according to Michael Kitchen, president of US Thrill Rides, the Orlando-based company that created the ride.
"We're extremely excited about creating a record-breaking, must-try attraction on International Drive," said Joshua Wallack, Mango's Tropical Café chief operating officer, who also will open a Mango's Orlando next year across International Drive from SKYPLEX. "Nowhere in the world will you have two iconic structures like The Skyscraper and the Orlando Eye. This will be an incredible opportunity for International Drive."