LEXINGTON, Ky. — Bourbon has long been a way of life in Kentucky, and a partnership among some of the state's top distilleries gives visitors an easy way to taste the Bluegrass State's most famous beverage.
Today, there are 19 major distilleries in Kentucky and a number of smaller, craft distilleries.
Between August 2007 and November 2011, more than 22,000 people toured the Bourbon Trail, with Kentucky, Ohio, Indiana and Illinois being the states with the most visitors.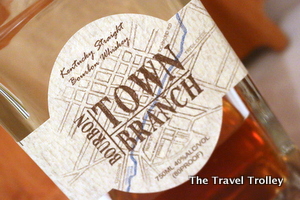 Town Branch Distillery opened in the heart of Lexington in October 2012 and was the first distillery to be built in Lexington in 100 years. It is named after the Town Branch stream, the waterway rich with limestone that once enticed numerous distillers to set up operations along its courses.
Facts about Kentucky bourbon, according to the Kentucky Distillers' Association:
Kentucky produces 95 percent of the world's bourbon
Kentucky-based companies ship 35 percent of the value of the nation's distilled
There are more barrels of bourbon aging in Kentucky than there are residents
Since 1999, bourbon production in Kentucky has increased 120 percent
The production of bourbon must meet strict criteria: The spirit must be made from at least 51 percent corn, aged in new charred oak barrels and stored at no more than 125 proof
The eight stops currently on the Trail are:
Four Roses Distillery, Lawrenceburg
Heaven Hill's visitors center, Bardstown
Evan Williams, Louisville
Jim Beam Distillery, Clermont
Maker's Mark Distillery, Loretto
Lexington Brewing and Distilling Company in Lexington
Wild Turkey Distillery in Lawrenceburg
Woodford Reserve Distillery, Versailles