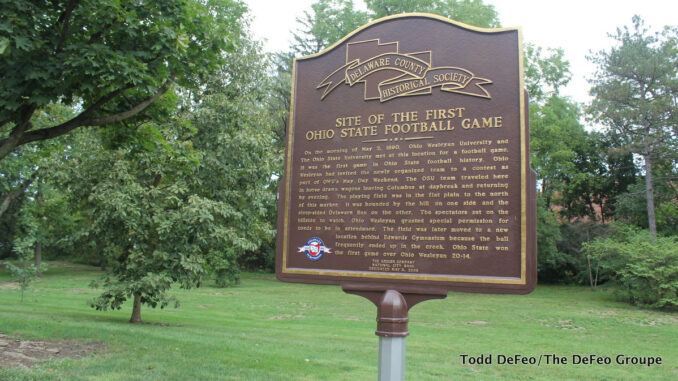 DELAWARE, Ohio — This week marks the return of college football. And, for rabid Ohio State fans, that means a return to the Horseshoe.
But, for anyone seeking to see where the Buckeyes' proud history began, venture about 25 miles north of Columbus to the bucolic community of Delaware. Today, the town is best known as the home of Ohio Wesleyan University (OWU) and the birthplace of President Rutherford B. Hayes.
On May 3, 1890, on what today looks to be nothing more than a small public green, the Ohio State football team lined up against the Battling Bishops of Ohio Wesleyan. The OWU football invited the newly formed Buckeyes football club to participate in the game as part of Wesleyan's May Day Weekend.
Today, it might seem like a lopsided match-up. The huge Ohio State boasts an enrollment of more than 50,000 students and has sent hundreds of its former stars to fill the rosters of NFL clubs. Meanwhile, the Battling Bishops participate in NCAA Division III's North Coast Athletic Conference.
But, in 1890, the college football landscape was dramatically different. The Buckeyes left Columbus in horse drawn carriages on the morning of May 3 and were back on their campus by nightfall.
An estimated 700 people turned out for that first Ohio State game, sitting on a hillside to watch the action; OWU granted "special permission" for co-eds to attend the game, according to a marker that today denotes the location. The Buckeyes edged out the Bishops by a 20-14 score.
Interestingly, the precise location of that first match-up was lost to history until it was rediscovered in 2007. Today, the field sits yards away from the Battling Bishop's current football home.