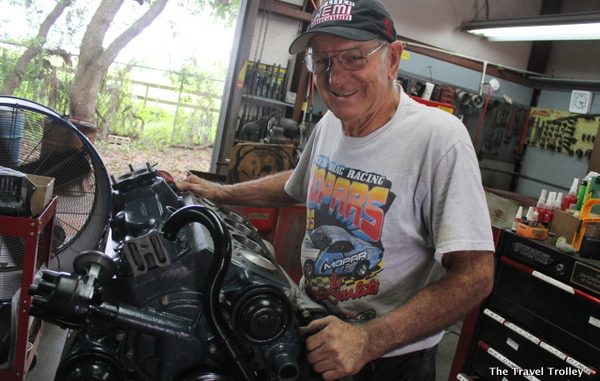 OCALA, Fla. — When it comes to listing the best drag car racers of all time, Don Garlits is sure to be near, if not at, the top of any list.
Garlits, known as "Big Daddy" to his legions of fans, is a true pioneer in the field. He perfected the rear-engine top fuel dragster design, which saw the engine relocated from the front to the rear of the vehicle, a modification he made after a wreck caused him to lose part of his foot.
Today, Garlits spends his time fixing up vintage engines for display in a museum he opened in 1984. Located off of Interstate 75 in Ocala, Florida, the Don Garlits Museum of Drag Racing features an amazing array of cars and vintage engines Garlits has rebuilt for display.
Artifacts that help tell the story of drag racing's history are featured throughout.
"I hope they enjoy the collection and get a much better idea of what the early days of Drag Racing were like," Garlits said recently when asked what he would like visitors to think when walking through the museum.
Among the highlights of Garlits' museum are the Swamp Rat I, the car Garlits raced when he set his first world record; the Swamp Rat 14, the first rear engine car Garlits built; and the Swamp Rat 34, "still the most modern Fuel Dragster in existence," Garlits says.
The key to building such an impressive collection? "I say I'm just a packrat," Garlits confesses. "Got it from my Dad."
While he may be a packrat, Garlits isn't necessarily done adding to his collection.
"I would love to have an Art Chrisman vehicle," Garlits said. "He is one of my Drag Race heroes, but his cars are on the West Coast."
Garlits' impact on the sport is nearly immeasurable. He was the first driver to officially surpass a number of speed marks, including hitting 270 mph on a quarter-mile track and 200 mph on a 1/8-mile track.
"It was a long career, with lots of 'ups and downs,' but something good always came out of a 'down'," Garlits said.
So, what would he tell a new generation?
"My advice is, especially to young people, do what you love in life, because life is short and time is really the most important gift," Garlits said. "That was the advice I got from my stepfather in 1950, he was so 'right-on'."
Added Garlits: "Money is secondary to doing what you love. When I was young, working on cars and Drag Racing was not the accepted thing to do."
Turns out, it was a good career move.