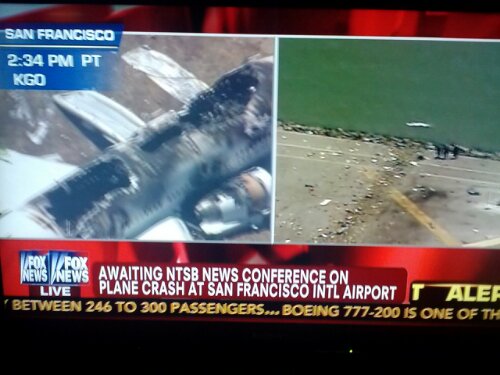 One or two people were killed and dozens more Injured after a Boeing 777 arriving from Seoul, South Korea, crash landed at San Francisco International Airport, according to Fox News Channel.
The airplane — Asiana Airlines flight 214 —apparently clipped a sea wall as it was about to land, ABC News radio reported. The plane's tail was destroyed and the mid section of the plane was" gutted," according to the report.
Reports on the exact number of people killed or injured were not immediately clear.
Video on Fox showed debris scattered along the runway and the plane resting in the grass next to the runway and atop foam spray deployed by emergency crews responding to the crash. Survivors could be seen leaving the plane and boarding airport buses, ABC reported.
"Fire and rescue people all over the place," the San Francisco Chronicle quoted one passenger as saying in a tweet. "They're evacuating the injured. I haven't felt this way since 9/11."
Asiana is South Korea's second largest airline.
The San Francisco airport remains closed. The NTSB is sending a crew to investigate.