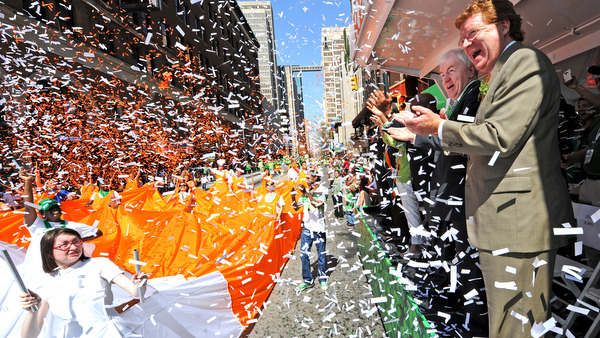 ATLANTA – More than 80,000 people are expected to turn out Saturday for the 131st Atlanta St. Patrick's Parade.
The annual family-friendly parade, aimed at celebrating the city's Irish culture and history, steps off at noon on Saturday (March 16). The parade runs along Peachtree Street, from the intersection of Ralph McGill Boulevard and Peachtree Street, to Marietta Street in Five Points.
This year's festivities include a pre-parade performance starting at 11:30 a.m. at the intersection of John Portman Boulevard and Peachtree Street. The performance will feature Irish step dancers and local singer/songwriter Reed Ferguson.
More than 2,000 dancers, musicians and Irish enthusiasts from across the Southeast, the country and Ireland are expected to march in this year's parade. The parade will also feature one of the world's largest Irish "walking flags," a large flag carried – or, more accurately, worn – by dozens of participants.
A number of notable local civic leaders are expected to attend this year's parade. Proceeds will benefit the Captain Planet Foundation's Learning Gardens.
Deputy Prime Minister of Ireland Mr. Eamon Gilmore and Ireland Consul General Paul Gleeson will lead the parade. Parade marshals are U.S. Sen. Johnny Isakson, R-Georgia, and U.S. Reps. John Lewis, D-Georgia, and Phil Gingrey, R-Georgia.
Atlanta's first St. Patrick's Parade parade was held in 1858. The parade aims to educate about contributions the Irish have made to the city, the South and the country.
For more information about the parade, visit www.stpatsparadeatlanta.com.