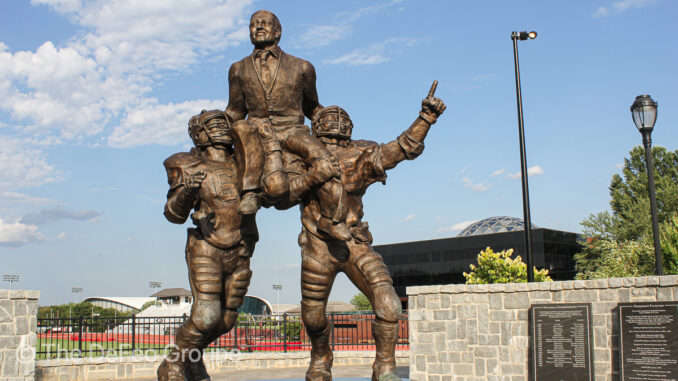 ATHENS, Ga. — Mention Vince Dooley to any Georgia fan, and you're likely to see a look of reverence.
Dooley, who coached the Georgia Bulldogs to a national championship in 1980, remains a much-revered figure in the Classic City. Since 2009, he's been memorialized with a bronze statue near athletic fields that bear his name.
Athens sculptor Stan Mullins crafted the 14-foot-tall bronze statue of Dooley, depicting the former coach being hoisted onto the shoulders of his players after winning the national championship. The memorial was dedicated in November 2008 before the annual Georgia-Georgia Tech football game.
"I really do like it," The Associated Press quoted Dooley as saying in 2008. "I like it because it involves the players and not just me."
Dooley served as the Bulldogs' head coach from 1964 until 1988, and led the team to the 1980 national championship. He was also the university's athletic director from 1979 to 2004 and was inducted into the College Football Hall of Fame in 1994.
For more information, visit: http://www.accessnorthga.com/detail.php?n=215635
For more information, visit: http://onlineathens.com/stories/072609/mar_470896346.shtml
For more information, visit: http://onlineathens.com/stories/113008/uga_361758770.shtml