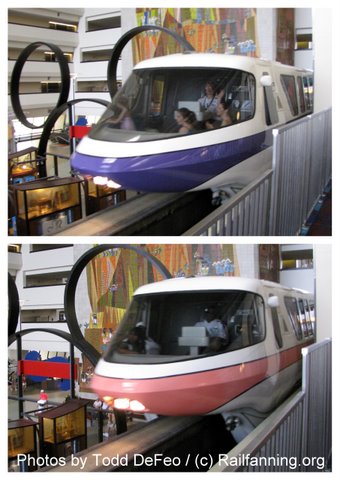 LAKE BUENA VISTA, Fla. — The National Transportation Safety Board said that the pilot killed a monorail collision at the Walt Disney World resort tried to reverse his train to avoid the collision.
The NTSB said it has developed the following factual information from its investigation of the collision of two trains on the monorail system at Walt Disney World that occurred at about 2 a.m. Sunday (July 5):
A Walt Disney World monorail train, designated Monorail Pink, backed into another monorail train, designated the Purple train, near the Ticket and Transportation Center (TTC) monorail station. The operator of Monorail Purple train was fatally injured; the six passengers on that train were treated at the scene.
The operator of Monorail Pink , who was transported to the hospital, treated and released, was the only one aboard that train at the time of the collision.
Prior to the accident, Monorail Pink had been instructed to detrain all passengers at the TTC station and then to operate without passengers past the station and a switch to a point where the train could be backed through the track switch from the Epcot loop over to the Magic Kingdom loop.
The operator of Monorail Pink moved the train past the track switch and stopped.
Monorail Pink was then instructed to back through the track switch, towards the Magic Kingdom loop. At about the same time, the Purple train, which was inbound to the TTC station, was instructed to stop at the station to detrain passengers.
For undetermined reasons that are currently under investigaton, the switch had not changed position needed to allow Monorail Pink to be routed to the Magic Kingdom loop, which resulted in Monorail Pink backing down the same track it had just come from, putting it on a collision course with Monorail Purple.
Monorail Pink passed through the TTC station and struck Monorail Purple while it was outside the station.
There are indications that the operator of Monorail Purple had brought the train to a stop and had attempted to put the train in reverse prior to the collision. To this point in the investigation, no anomalies or malfunctions have been found with the automatic train stop system or with any mechanical components of the switch or with either of the trains.
It is not clear why the pilot of Monorail Pink continued to back up through the TTC station.