The Tombstone Epitaph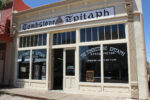 Name:
The Tombstone Epitaph
Description:
The Tombstone Epitaph is perhaps the most revered institution in Tombstone, Arizona. John P. Clum founded the newspaper in 1880, and today, it is the oldest continuously published newspaper in the Grand Canyon State. Since the town was name Tombstone and "every Tombstone needs an epitaph," as Clum would later say, the newspaper had its name. The publication witnessed history, when, in 1881, it reported on the now-infamous Shootout at the OK Corral. Today, the paper is a monthly journal of western history. Students at the University of Arizona continue to publish a local edition of The Tombstone Epitaph. The newspaper office in Tombstone is a museum about its role in the community.