Statue of Wyatt Earp and Doc Holiday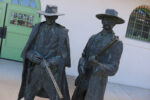 Name:
Statue of Wyatt Earp and Doc Holiday
Description:
On March 20, 1882, Deputy U.S. Marshal Wyatt Earp shot and killed Frank Stillwell in the Tucson train yards. Stillwell likely killed Earp's brother, Morgan, following the Shootout at the OK Corral in Tombstone, and Earp formed a posse to hunt down to pursue suspects, an event later remembered as the Earp Vendetta Ride. Sculptor Dan Bates created the statue of Earp and Doc Holiday that stands near the historic Tucson depot. The sculpture debuted on March 20, 2005, the anniversary of the shooting, as part of an overhaul of the historic train depot. Following the shooting of Stillwell, Earp fled Arizona as he was wanted for murder.