Pima Air & Space Museum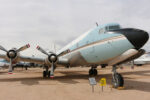 Name:
Pima Air & Space Museum
Description:
The Pima Air & Space Museum is one of the world's largest aerospace museums. The museum, established in 1976, is home to roughly 300 aircraft and more than 125,000 artifacts displayed outdoors and in five hangars across more than 80 acres. Its collection includes an SR-71A Blackbird, an A-10 Warthog, a Boeing B-29 Superfortress and President Kennedy's Air Force One. The museum, situated adjacent to Davis-Monthan Air Force Base, is the country's third largest aviation museum and the largest privately funded aviation and aerospace museum in the world. The museum is also home to the Arizona Aviation Hall of Fame.