Mission San Xavier del Bac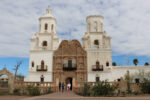 Name:
Mission San Xavier del Bac
Description:
Jesuit missionary Eusebio Francisco Kino founded Mission San Xavier del Bac in 1692. Kino, a Jesuit of Italian descent, often visited the area and preached to native residents. He began building a permanent mission around 1700, but the current building was constructed between 1783 and 1797 and is the oldest European structure in Arizona. The building features a white stucco and Moorish-inspired exterior with an ornately decorated entrance. Franciscans still actively run the church, unlike other Spanish missions in Arizona. The church, nicknamed "The White Dove of the Desert," is on the Tohono O'odham Nation San Xavier Indian Reservation.