Customs House Museum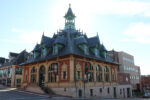 Name:
Customs House Museum
Description:
In 1898, the federal government built a customs house and a post office at the corner of Second and Commerce streets to help process the increasing volumes of mail to and from the city. In 1984, the building was transformed into the Customs House Museum and Cultural Center touted as the state's second-largest general interest museum. The museum features a number of permanent exhibits, including the postmaster's office and Memory Lane, dedicated to telling the story of Clarksville and Montgomery County's history.