Clermont Citrus Tower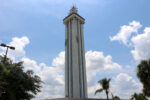 Name:
Clermont Citrus Tower
Description:
The Clermont Citrus Tower first opened to visitors in 1956. It took 13 months, roughly $300,000, five million pounds of concrete and 149,000 pounds of reinforced steel to build the tower. Counting its antenna, the tower reaches over 500 feet above sea level, making it the highest observation point in the Sunshine State. At one point, more than 500,000 people visited the tower every year. However, the 1964 extension of the Florida Turnpike provided a waste route for motorists and the tower's popular among travelers began to wane. Then, that roadside oddity called Walt Disney World opened. The rest, as they say, is history.