Arizona-Sonora Desert Museum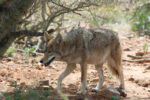 Name:
Arizona-Sonora Desert Museum
Description:
The Sonoran Desert is much more than cactuses and coyotes, and the 98-acre Arizona-Sonora Desert Museum shows that. The one-of-a-kind museum features a zoo, botanical garden, art gallery, natural history museum and aquarium. It is home to more than 230 species of animals and 1,200 varieties of plants. The museum, founded in 1952, interprets the natural history of the Sonoran Desert and nearby ecosystems. There are two miles of walking paths that cover 21 acres. The real highlight is the live animal demonstrations, where visitors can witness birds of prey in their element.