9/11 Flight Crew Memorial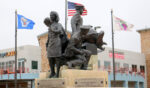 Name:
9/11 Flight Crew Memorial
Description:
The 9/11 Flight Crew Memorial was born out of American Airlines Flight Attendant Valerie Thompson's desire to honor the crewmembers killed on the planes hijacked on Sept. 11: American Airlines flights 11 and 77 and United Airlines flights 93 and 175. Her dream became reality when the monument was dedicated on July 4, 2008. Based on a design by Bryce Cameron Liston of Salt Lake City, Utah, and sculpted by Dean Thompson, the memorial features bronze sculptures of two pilots, two flight attendants and a child who represents the traveling public. The memorial's base stands 18 feet tall. The names of crewmembers on the four flights are engraved on slabs of granite surrounding the base.