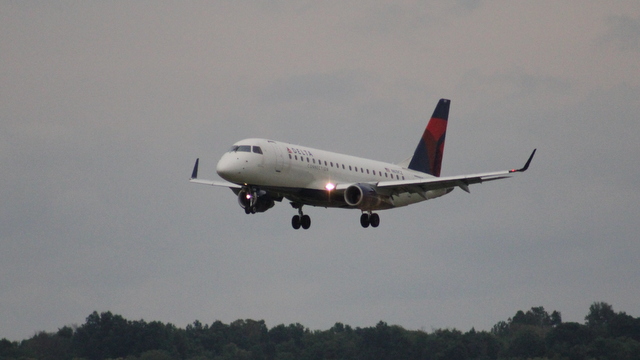 ATLANTA — Even if the federal government lifts a ban on in-flight cell phone calls, Delta Air Lines will not allow passengers to make such calls, its CEO said on Wednesday.
"Our customer research and direct feedback tell us that our frequent flyers believe voice calls in the cabin would be a disruption to the travel experience," said Delta CEO Richard Anderson in a memo to employees. "In fact, a clear majority of customers who responded to a 2012 survey said they felt the ability to make voice calls onboard would detract from – not enhance – their experience.
"Delta employees, particularly our in-flight crews, have told us definitively that they are not in favor of voice calls onboard," Anderson added.
The Federal Communications Commission (FCC) voted last week to seek public comments on the ban, which it is considering lifting. But, even if the ban is lifted, airlines would need to install the technology that would allow passengers to make cell phone calls.
Earlier this year, Delta was the first airline to file a plan with the Federal Aviation Administration to allow customers to use portable electronic devices below 10,000 feet following a separate rule change. Should the FCC lift the cell phone call ban, Delta would allow passengers "to use text, email and other silent data transmission services gate to gate," Anderson said.
"A policy change of this nature should only be made after exhaustively contemplating whether it improves the travel experience, and there are some strong indications that travelers themselves do not want it," U.S. Travel Association President and CEO Roger Dow said in a statement. "Polls we have seen by Quinnipiac University, the Associated Press and others have concluded that the public opposes in-flight phone calls by very convincing margins.
"The travel community urges the FCC to be as thorough as possible in seeking data for its consideration of this policy move, as the FAA was in revisiting its policy on the use of electronic devices in-flight," Dow added.
According to the Los Angeles Times, Southwest Airlines has a similar position as Delta. United Airlines plans to keep a ban in place for the immediate future while American Airlines hasn't stated its intentions should the ban be lifted, the newspaper reported.
"Even as technology advances and as regulations are changed, we will not only consider what we can do, but as importantly we will also consider what is right for our customers and our employees," Anderson said in his memo. "This is yet another example of how we continue to have your back and how we also rely on your professionalism and experience to guide our actions and decisions."