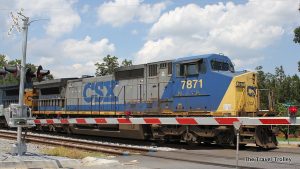 Union Pacific Railroad is urging drivers to remain vigilant and use caution when driving across railroad tracks this Labor Day weekend.
"With the Labor Day weekend being one of the busiest vehicle travel days during the year, we want drivers to use caution when they cross railroad tracks, always expect a train and safely arrive at their destinations," Union Pacific Chief of Police Robert Morrison said.
AAA Travel is predicting 33 million Americans will travel at least 50 miles during the Labor Day weekend, which runs Aug. 30 to Sept. 3. That would be a post-recession high, representing a 2.9 percent increase from the 32.1 million people who traveled during Labor Day weekend last year.
"Because of its size, a train is actually moving faster than it appears, and, by the time a locomotive engineer sees a vehicle on the crossing, it is too late to stop," said Dale Bray, Union Pacific director – public safety.
Even as gas prices have increased in recent weeks, driving remains the most popular method for traveling this labor Day. The national price for gas is $3.72 per gallon, down 22 cents from its 2012 peak in April, according to AAA, which is predicting 85 percent of holiday travelers – or roughly 28.2 million people – will be driving.
That would be a 3.1 percent over a year ago. Similarly, Enterprise Rent-A-Car reported a 25 percent increase in the number of advance Labor Day reservations.