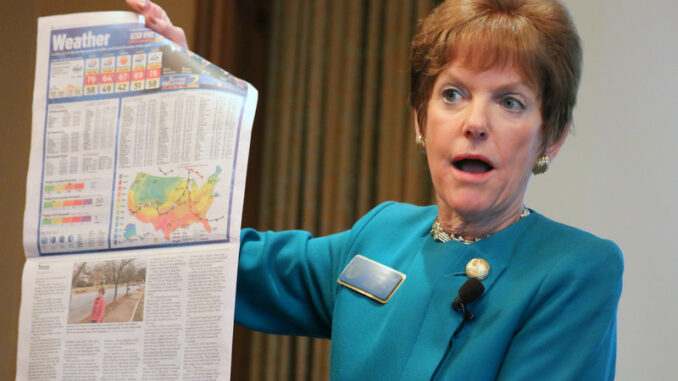 ATLANTA — A city of Atlanta initiative to target deadbeat property owners will not only clean up a number of individual neighborhoods, but the city as a whole, a councilwoman says.
Atlanta is a "tale of two cities," City Councilwoman Mary Norwood told the Buckhead Business Association (BBA) last week. About half of the city's population is located below a line that runs south and west of Grant Park, Georgia Tech and downtown, but that's where many of the problem neighborhoods are.
The southside of Atlanta is home to a number of neglected properties, but, Norwood lauds the neighborhoods in the southern portion of the city. She says they are mirrors of their counterparts in the northern portion of the city, but abandoned and neglected properties are hurting neighborhoods there and the tax rolls throughout the city.
"This city can't survive forever as a tale of two cities," Norwood said. "…We can grow well, but we grow better as a city when we have tax revenue from everybody and when all boats rise."
Code enforcement in Atlanta is currently a criminal matter. However, as a criminal matter, Norwood said, the city often cleans up properties and even demolishes structures, benefiting delinquent property owners, but taxpayers are left footing the bill.
A recommendation to change code enforcement penalties to civil was included in a December 2014 report from the Flint, Mich.-based Center for Community Progress. Changing code enforcement to a civil matter means the city can recoup any costs incurred cleaning up properties, Norwood said.
"This is brand new, it's huge and it will make a huge difference to our city," Norwood said.
Troubled neighborhoods are detrimental to the city as a whole for a number of reasons, including a reduction in property value, decreased tax collections and criminal activity, Norwood said. With the change, the city can put a superlien on the property that supersedes other liens that may be on a property, thereby allowing the city to recoup costs.
"Our existing code enforcement process in the city is a criminal process. So you have to find … the owner to personally serve them a citation to take them to municipal court," Norwood said. "We're going after the wrong people, and the terrible guys are … getting away" with neglecting properties.